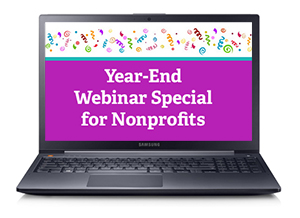 Now through December 31 nonprofits can receive an additional 10% off the Fall Webinar Special. This year-end webinar special ensures that your nonprofit can lock in the lowest price for the webinars that will be offered by Nonprofit Tech for Good in 2014. Your nonprofit can purchase registrations for webinars currently scheduled in 2014 or credits for webinars not yet scheduled – or a combination of both. Registrations and credits can also be shared between multiple individuals. For example, if two individuals would like to attend five webinars each, then you can purchase 10 webinars for $225. Through this year-end webinar special your nonprofit can register now for 2014 webinars at the following rates:
Buy 2 Webinars, Get 1 Free :: 3 Webinars for $90 (normally $100)
Buy 3 Webinars Get 2 Free :: 5 Webinars for $135 (normally $150)
Buy 4 Webinars, Get 3 Free :: 7 Webinars for $180 (normally $200)
Buy 5 Webinars, Get 5 Free :: 10 Webnars for $225 (normally $250)
How to Register: Year-End Special for Nonprofits
1. Email the name, title, organization name, and email address of each person attending to: heather@nptechforgood.com. Include a list of the webinars your nonprofit would like to register for. Please specify if you would like to purchase a combination of registrations and credits.
2. You will then be sent an invoice via PayPal. You can pay with Mastercard, Visa, American Express, Discover, or PayPal. Checks are only accepted for registrations of $135 or more. Sorry, no refunds.
3. If for some reason your schedule changes and you can no longer attend a webinar, you can switch dates as long as you notify Heather Mansfield before the webinar occurs.
4. Once payment is confirmed, each participant is then emailed their login and audio information from GoToWebinar.
5. 5. A toll free number is not provided for the webinar, but attendees can listen to the audio presentation for free over their computer speakers or call into a phone number provided by GoToWebinar. Phone numbers are provided for those in the United States and Canada and Australia, Austria, Belgium, Denmark, Finland, France, Germany, Ireland, Italy, The Netherlands, New Zealand, Norway, Spain, Sweden, Switzerland, and the United Kingdom.